YoYotta Transcode
High quality transcoding creating DPX, MOV, MP4 or MXF+AFF copies of material
With CDL, 3D LUT, REC709 processing and image resizing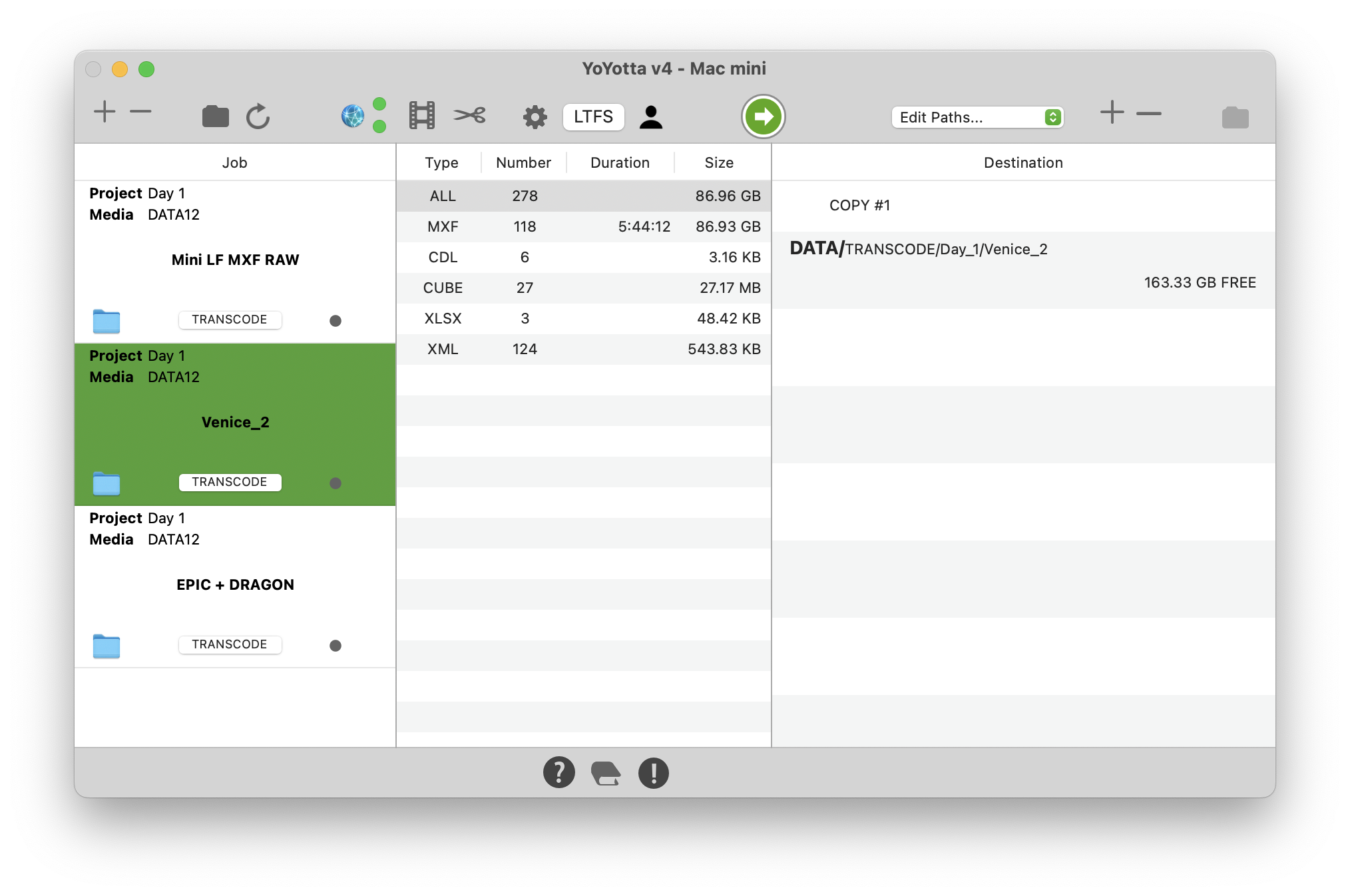 Quick, easy transcoding
Connect a drive or drop in a folder and transcode all the material or use the Source Browser to select which folders or source types need to be transcoded.
Toggle the COPY button in the job table to TRANSCODE.
ALE and CSV reports can be generated. Burn in timecode or watermarks and logos. Send output to multiple destinations.
Cameras formats
ARRI ALEXA 65, LF, SXT, codecs ARRIRAW, ProRes including Apple ProRes 4444 XQ
ARRI Mini MXF wrapped ARI
ARRI AMIRA ProRes
Codex HDE
Sony F700, F5, F55, VENICE and F65, formats MPEG2, SStP, XAVC, X-OCN, 2K and 4K RAW
Sony FS7 XAVC, MPEG and ProRes
Sony X70 XAVC
RED WEAPON, EPIC, SCARLET, RAVEN, RED ONE, formats R3D, ProRes and DNxHD
Panasonic VariCam AVC-Intra 4K and 2K, GH5 Long GOP, VariCam LT DNG, EVA1 MOV + AVCHD
Phantom CINE
DPX, DNG, AVI
Canon 5D, 7D, 60D, 500D H.264 MOV
Canon C200 MP4
Canon C300, C500, C700 MXF
DSLR CR2, NEF, TIF, TIFF, JPG, JPEG
GoPro H.264 and H.265 H.265 decoding requires macOS 10.13 or newer
---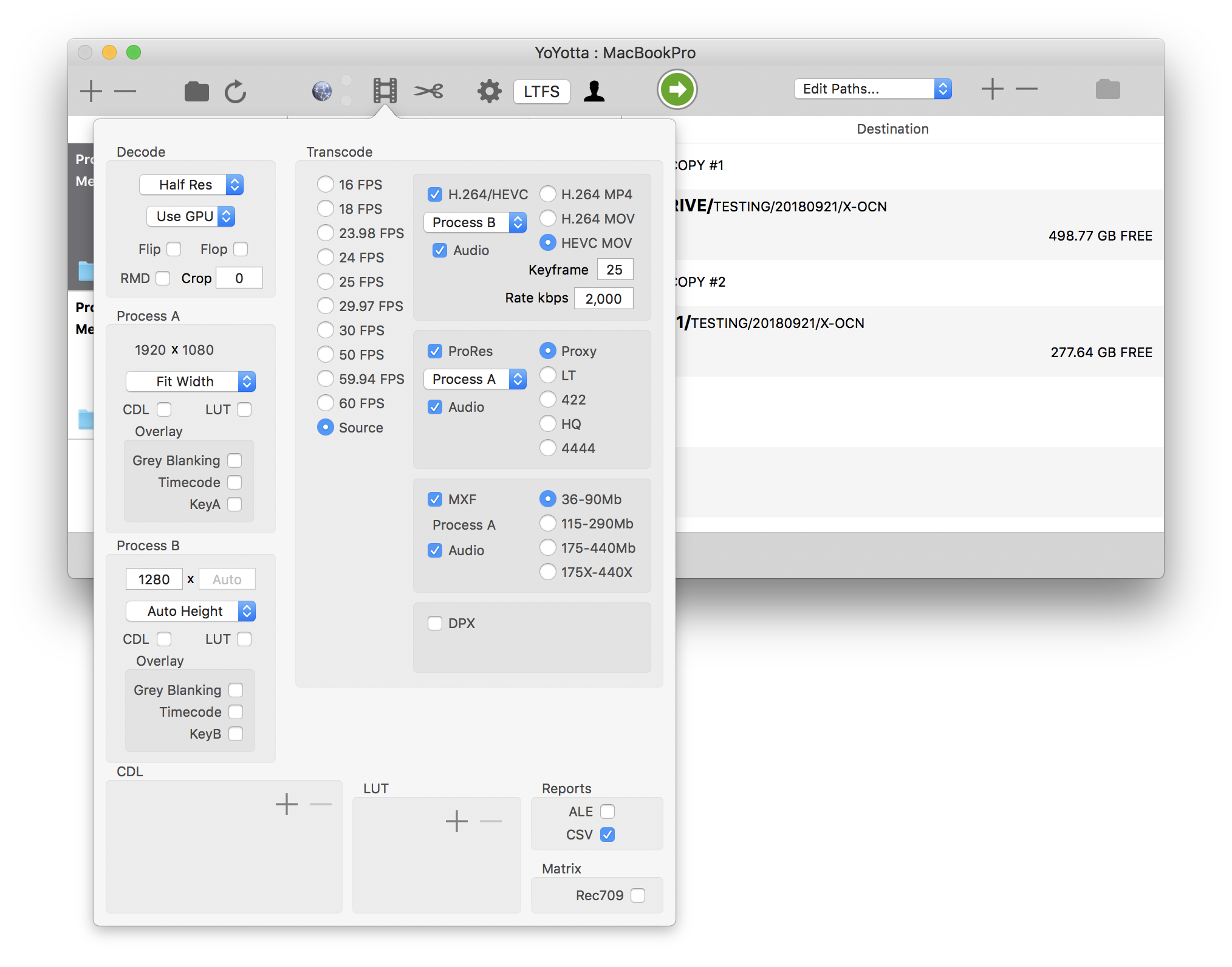 Multiple simultaneous output codecs
Open the Transcode panel and choose one or more destination codecs. Support for 8K resolution, floating point RGB workflow ensures high quality results. Accurate control of bit rate when encoding to H.264 or H.265.
When creating MP4, MOV or MXF, audio is read from MOV, MXF and DPX+WAV sources.
H.264 MOV
H.264 MP4 with AAC audio
H.265/HEVC MOV requires macOS 10.13 or newer
Apple ProRes Proxy, LT, 422, 422 HQ and 4444 MOV
MXF HD LB (36Mb), HD SQ (115Mb), HD HQ, HD HQX (175Mb) MXF + AAF for Avid
MXF HR LB, HR SQ, HR HQ, HR HQX MXF + AAF for Avid
DPX 10 bit or 16 bit
---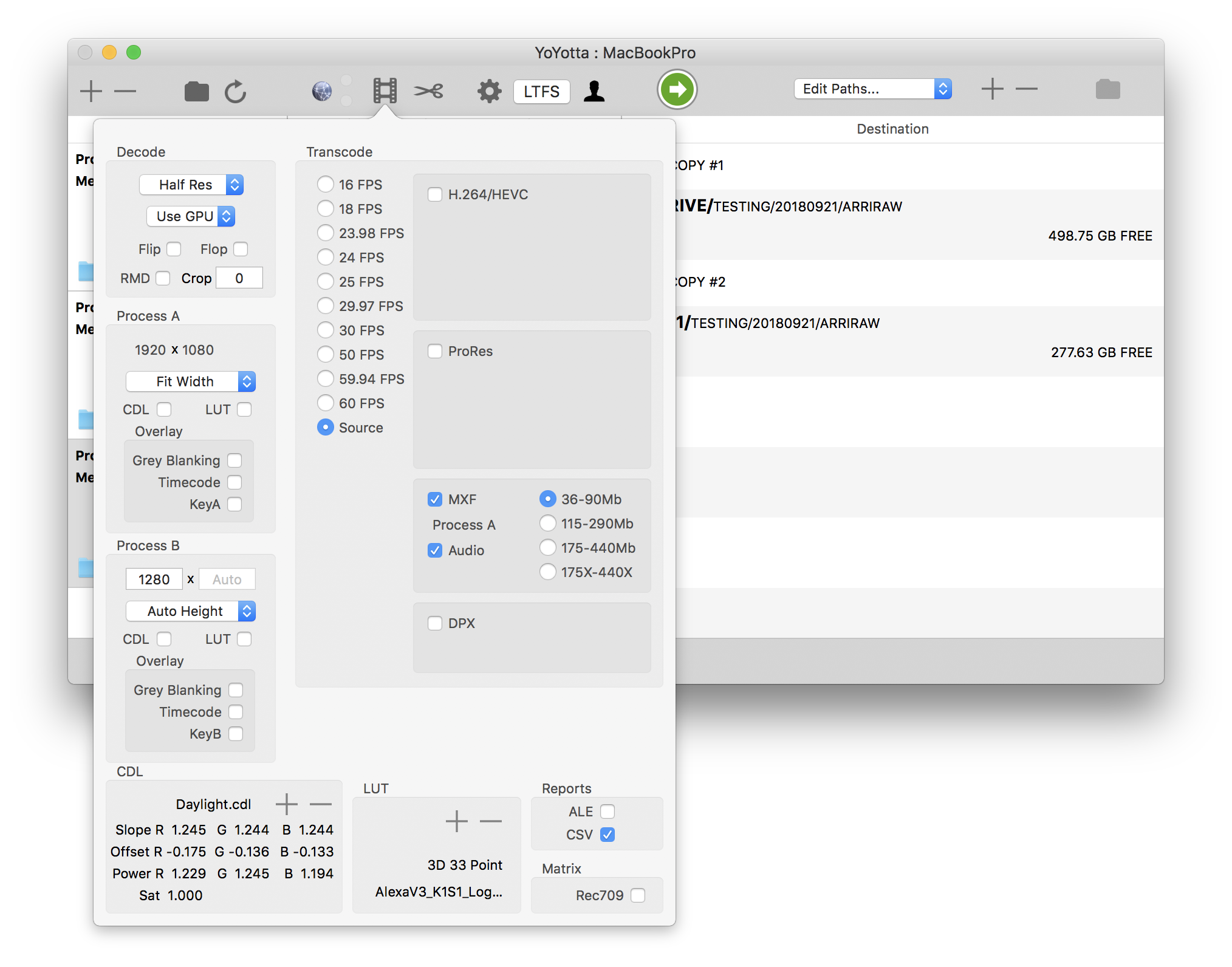 CDL, 3D LUT, REC709 Matrix processing
Add a CDL file to apply slope, offset, power and saturation
Add a 16, 17, 32, 33, 64 or 65 point 3D LUT to convert Log material to REC709 or to apply a creative grade
Add a matrix to convert to REC709
---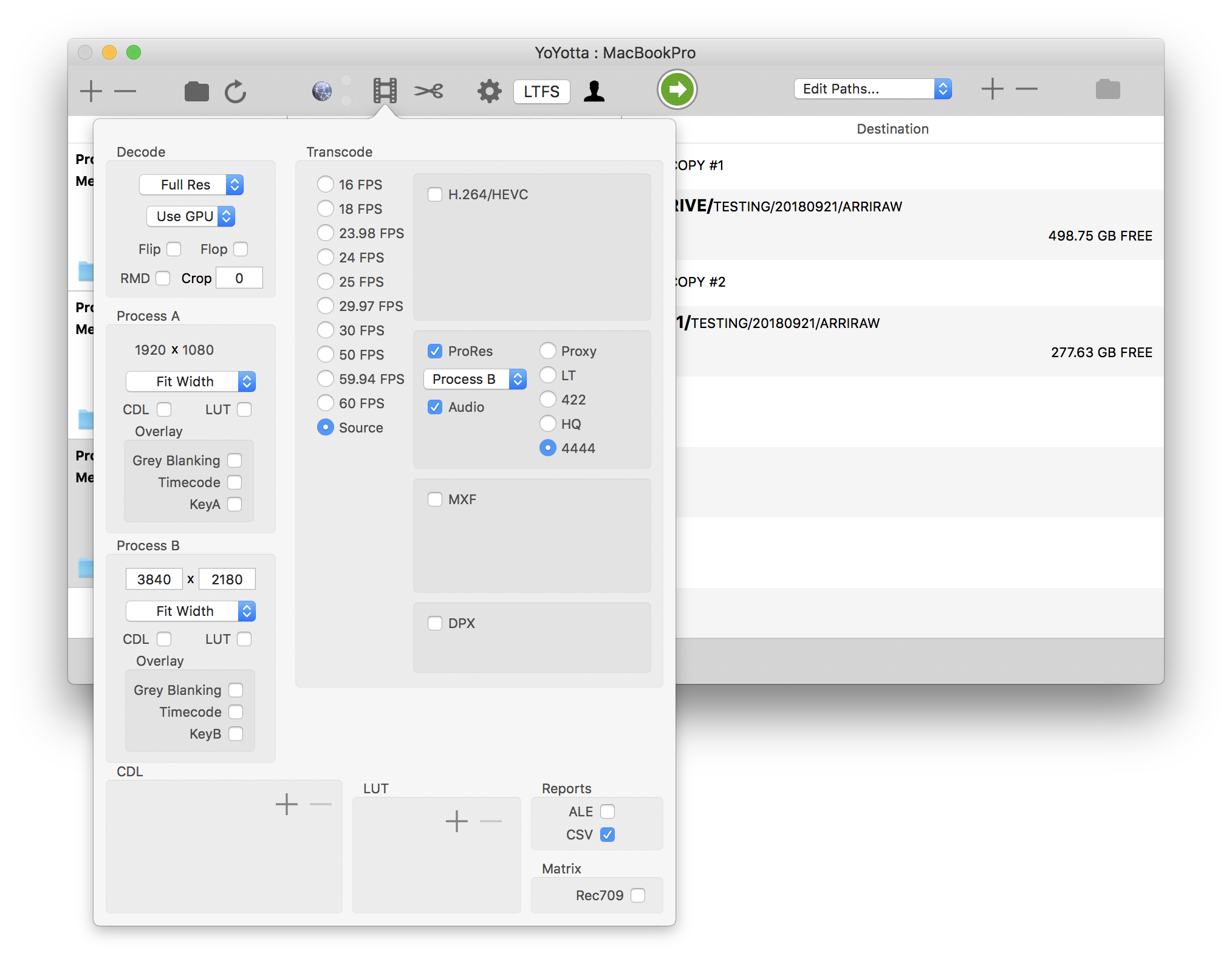 Resizing clips
Transcode at original size or up-res or down-res to a new size. Fit Width or Fit Height to create Letterbox or pillarbox with blanking.
---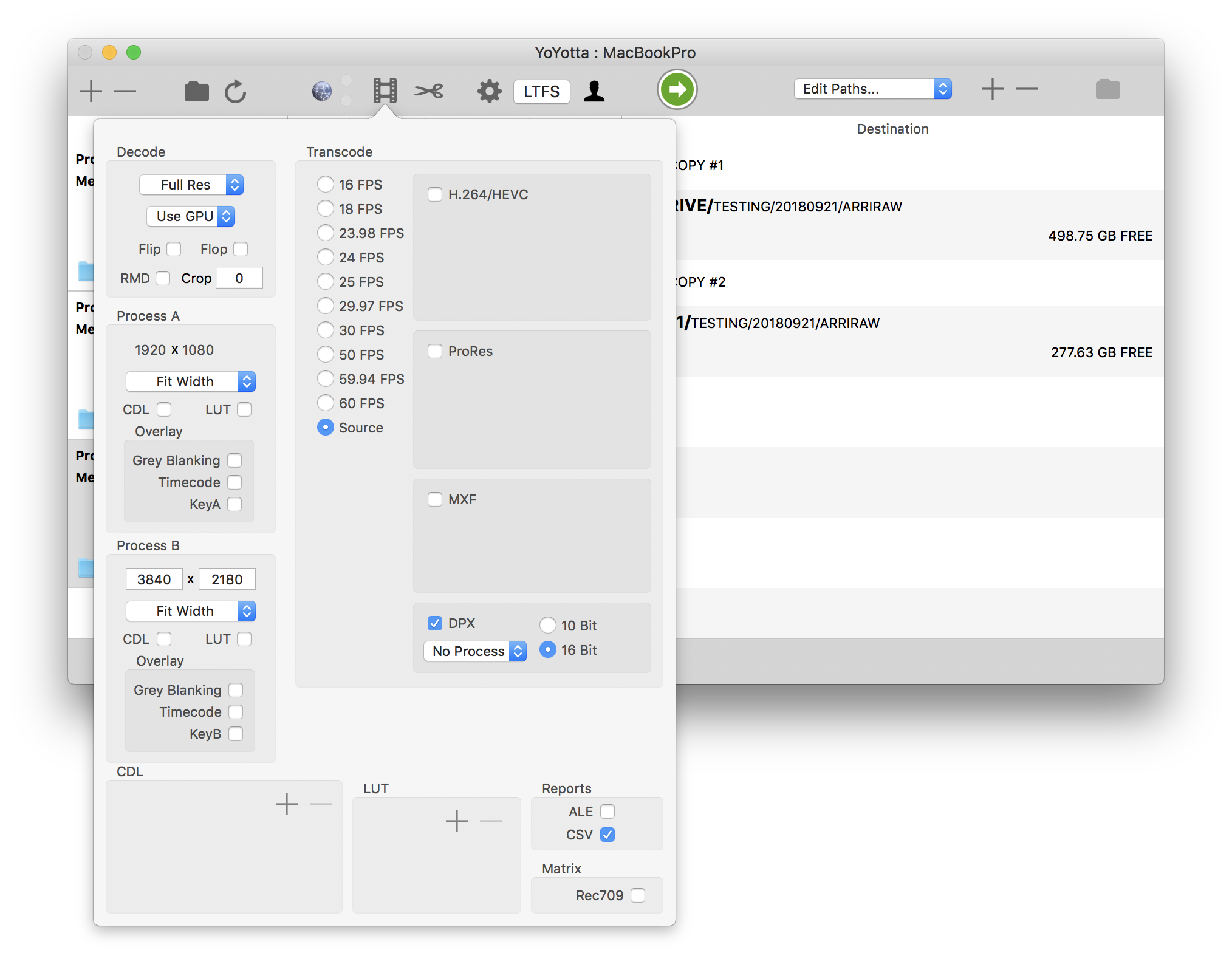 Create DPX sequences
Output to 10 or 16 bit DPX or ProRes 4444 for online workflows.
---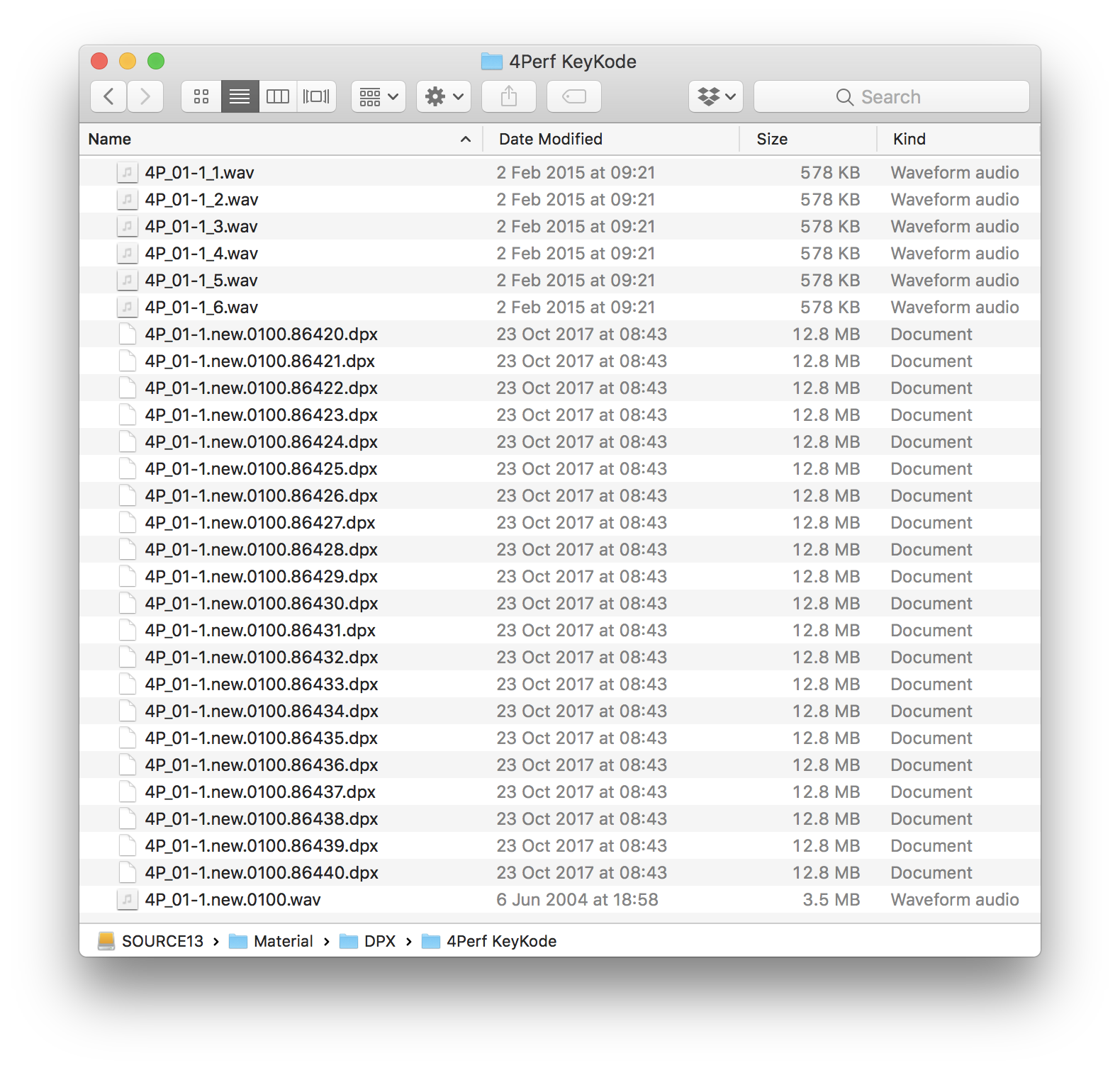 Transcode DPX with Audio
YoYotta can add audio channels when transcoding DPX image sequences to H.264 or ProRes. Put the audio WAV file into the same directory or the directory above and give it the same name as the DPX file prefix. Use a . or _ to separate the sequence name from the sequence framecount. Here the sequence name is 4P_01-1.new.0100 and the frame count starts at 86420. Other examples would be VFX174.090000.dpx with VFX174.WAV or Clip1_090000.dpx with Clip1.WAV
---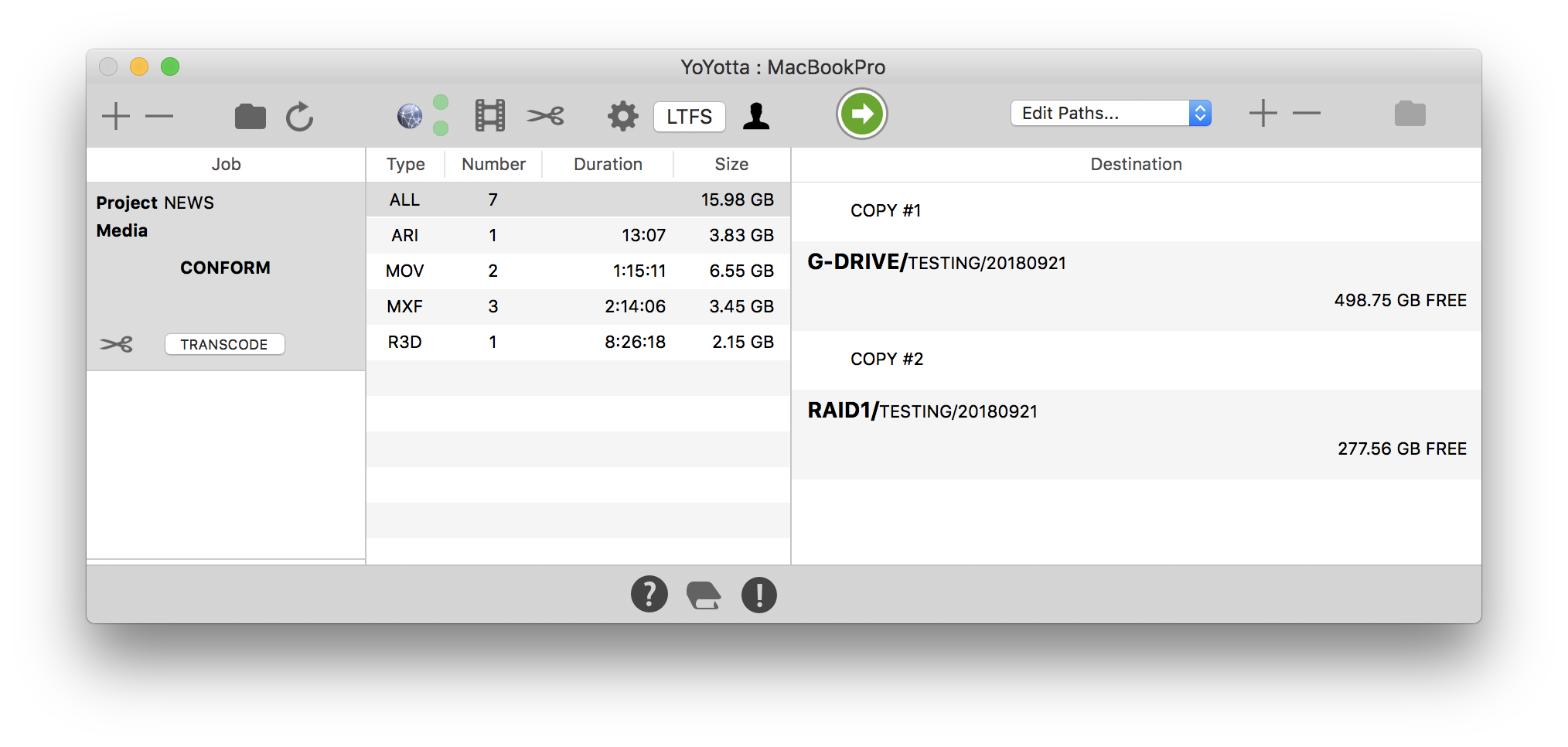 Conform and Transcode
Use the YoYotta Conform option as a source for the Transcode. Easily create over-length selects from the source material for online.
---
Transcode is available as an option for YoYotta, YoYotta LTFS or YoYotta Automation
All recent Mac's work with Transcode, older Mac minis do not, click here for more details.
---
YoYotta software runs on Apple macOS Mojave 10.14, High Sierra 10.13, Sierra 10.12, El Capitan 10.11
macOS 10.12 or newer is recommended.